The International Healthcare Center assists patients with administrative details such as appointment setting, financial inquiries, language assistance, and so on. The staff at the International Healthcare Center is here to help and to make international patients feel comfortable. Our dedication to international health care and international patient care helps solidify as one of the best hospitals in Korea.
Languages supported at our company  include English, Russian and Mongolian.
Gamma Knife
The existing gamma knife type B was upgraded to gamma knife type C to increase the safety and efficiency of treatment. Gamma knife type C is a surgical tool for completely automated radiosurgery that dramatically improved the accuracy and safety of surgery. In addition, it shortened the overall duration of treatment, making the treatment session far more comfortable for patients.

And they lived happily ever after…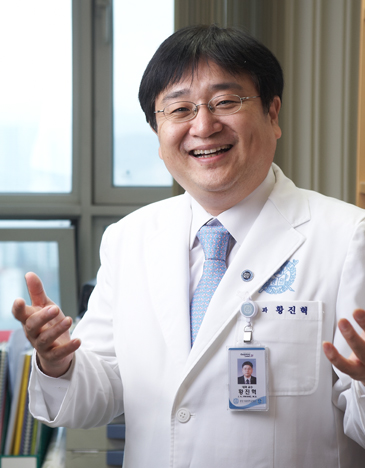 Hwang, Jin-hyeok
Director of Health Screening & Promotion Center
We all want to live a happy and healthy life alongside the people we love.
The average lifespan of humans has increased by about 20 years from 40 years ago, and is expected to continuously increase in the future. However, the incidence of diseases such as cancer, cardio- and cerebral vascular diseases, metabolic diseases (e.g., diabetes), and bone and joint diseases has also increased, and they have become a major obstacle to good health and to happy aging.
It has been proven that the onset of the aforementioned diseases is related to various factors, including genetics, lifestyle, diet, pollution, and stress. As such, all the individuals and societies of the present 21st century are left trying to find the answer to this important and urgent question: "How can we maintain our physical, mental, and social well-being for our whole lives and effectively prevent potential risk factors that can harm our wellness?"
My Hospital has achieved great performance by combining IT technology with patient care and research in specialized clinical areas, including, cardio- and cerebral vascular diseases, cancer, lung diseases, bone and joint diseases, and aging, since its opening in 2003. Health Promotion Center operates based on an optimized program to maintain patient wellness through the prevention and early diagnosis of diseases, which it aims to achieve through accurate, evidence-based assessment and estimation using its scientific knowledge, experience, and data.
We are determined to provide a safe, satisfactory, and tailor-made comprehensive health management program for our patients in a better environment.
Thank you.